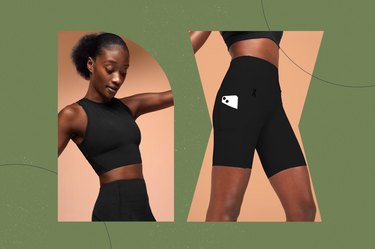 If you live an active, on-the-go lifestyle, you'll understand my appreciation for workout clothes that can double as cute outfits. I'll admit: After breaking a sweat, I don't ‌‌always‌‌ hit the shower right away. I might run errands, catch up with a friend or finish some chores before I change.
So it's important for me to wear something that's comfortable and functional enough to keep me moving throughout the day. On top of that, I also do a lot of cross-training. Some days I'm running, other days I'm weightlifting, biking or taking a yoga class (and somedays it's a combination of these!).
Functionality and Features
The Movement Crop is a crop top designed for low-intensity workouts or rest days. I first put it to the test with a yoga flow and Pilates, but it was also perfect for moderate-intensity activities, too, like strength training and easy jogs.
It's made of 75 percent recycled polyamide and 25 percent elastane. Translation: it's super soft, has some stretch and will wick away sweat. With a combination like that, it doesn't take long to see why this top can be worn all day.
If crop tops aren't your jam, don't let the description scare you away. I don't find it to be ‌too‌ cropped to the point where I feel like I'm showing too much skin. Plus, if you pair it with the Movement Tights Short, the high-waisted bottoms will cover most of your midriff.
This racerback style crop has a secure fit that's true to size, so no matter if you're jogging or carrying groceries, it stays in one place. I also couldn't help but notice how lightweight and breezy it feels, keeping me fresh and comfortable around the clock. When it's laundry time, I tossed it in the washer with colored clothing, dried it on low heat and it came out as good as new.
This top comes in two colors, black and grape (a grey-ish shade of purple). Both colors are classic wardrobe staples that can easily be paired with a jacket, taking this look from a sweaty workout to the streets (or in my case, a hot yoga class to Trader Joe's).
What's a crop top without a stylish pair of shorts? I'm a sucker for a matching set, so even though these two items can be worn separately, I absolutely adore them together.
The Movement Tights Short has everything I look for in a biker short — high-waisted, soft sweat-wicking material and pockets (I mean c'mon, who doesn't love pockets?!). But the true test is seeing if they stay in place while working out and moving throughout my day.
Finding shorts that don't ride up are a common challenge for me, but I'm happy to report that these pass the test with flying colors. I've worn them for a 5K run, strength training at the gym and yoga class. With every mile, squat and downward dog, these shorts didn't move an inch.
They're the perfect length (8 inches) to feel comfortable transitioning from your workout of choice to your next destination. The breathable fabric kept me dry, so I never felt like I was sitting in my sweat for the rest of the day.
And the cherry on top is the pockets (yes, they're worth another mention). One pocket is placed on the thigh, big enough to fit your phone. The other pocket is tucked inside the waistband and can fit small items like keys. If you like to move around hands- and purse-free, you'll enjoy this pocket perk just as much as I do.
Get Your Own Movement Crop and Movement Tights Short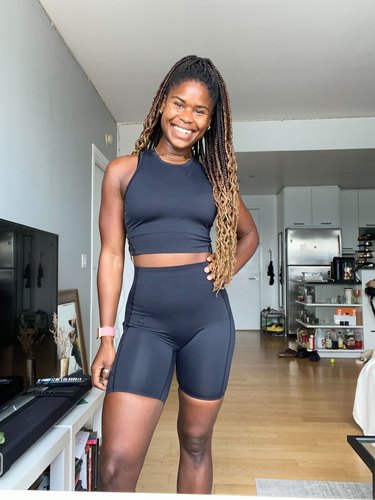 It's nice to have wardrobe items that can double as activewear and everyday clothing. You can save yourself time and forget about doing an outfit change when you put on the Movement Crop and Movement Tights Short. How's that for functional fitness?